Aidele Door Industry since the establishment in 2005, now has more than 50 thousand square meters of production plant, production equipment, more than and 200 sets, including a number of automatic surface spray paint line. "Aidele Door Industry" brand of non-standard door, steel security door series products have been recommended audit named "A Well-Known Trademark in China", "ten brand", "CCTV brand advertising exhibition".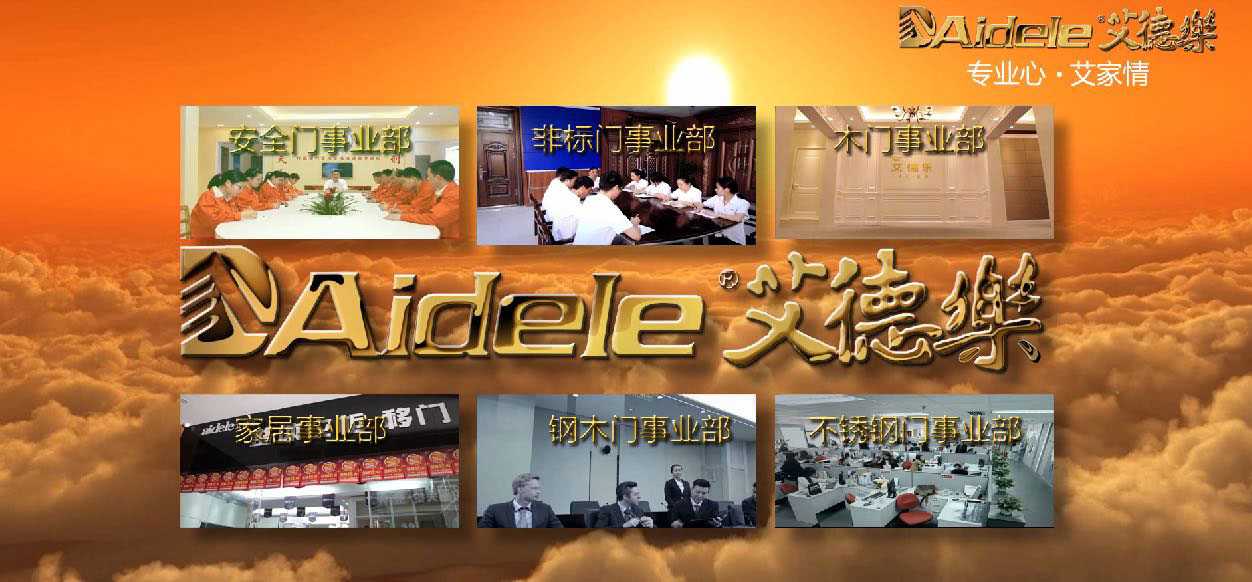 At present, the company registered capital of about 10 million yuan, the output value reached 150 million, with cattle gold headquarters and production base in Wuyi Development Zone, a hundred flowers mountain production base, Yongkang Zhiying Industrial Zone Yongkang Xinghua Industrial Zone production base, production base, production equipment more than and 500, 12 automatic production lines, more than and 800 employees.
Since the products on the market, with its exquisite craft, luxurious and durable, convenient installation, deeply respected and loved by consumers, has been leading my country industry roaming, export to Russia, Iraq, Angola and other countries, won the majority of customers praise, honor and pride Chinese door the famous brand products, consumer confidence, Qianjiang Evening News and Yongkang daily joint appraisal of the brand.
In recent years, the company strictly abide by the ISO9001:2000 national quality certification system in the management mode, the full realization of computer paperless production, quality complaints zero tolerance, adhere to the brand oriented dissemination of ideas, the implementation of integration strategy actively, molds the brand image, so as to play a better social and economic benefits, based on domestic and overseas let the music into the international market, ed. modern higher starting line.
Our sincere wish, our efforts to get the trust and support of the majority of customers constant, mutual benefit, win-win cooperation and welcome dealers across the country to join the big family of Aidele.
Corporate slogan: Obey management Solidarity and mutual assistance Dare to compete Go to all lengths
Corporate mission: Loyal to the company Loyal to a career Loyal to the customer
Corporate vision: Become the industry benchmarking enterprises
ISO9001:2008 quality system certification;
2009, in the national non-standard door, stainless steel door industry brand quality supervision activities, was selected as "China non-standard door, stainless steel door industry ten brands";
Aidele anti-theft security door in the CCTV seventh series of advertisements in honor of broadcasting
Zhejiang province contract and trustworthy unit
Yongkang city above scale units
Jinhua Chengxin private enterprise
Jinhua Chengxin private enterprise
China quality brand products
The first door brand dealers
Quality, service, reputation AAA brand
Picture
Certificate Name
Issuing Authority